Body Sculpting
Slim. Tone. Lift.
WHAT IS BODY SCULPTING WITH CRYOSKIN?
Cryoskin is a revolutionary machine from Italy, which uses heat and cold to reduce fat cells and tone/tighten skin. This technology is applied using a massage technique, which is painless and non-invasive.
Body Sculpting with no suction, no surgery.
Just incredible results.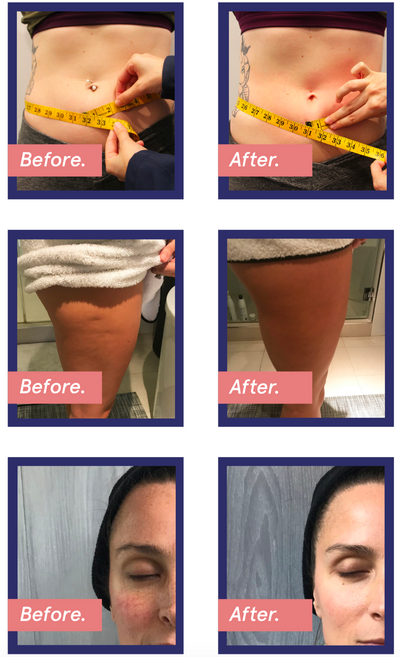 If you work hard to make the best of yourself and your body, then this is for you. Depending upon what you want to achieve, Cryoskin can be used in 3 modes.
SLIM
Body Sculpting with Cryoskin can slim your stomach, legs, back, arms, and butt. We take measurements before and after so you can see the difference from treatment to treatment.
TONE
Toning is effective for drastically reducing the appearance of cellulite and shaping those tough areas that diet and exercise just can't reach.
FACE
Cryoskin Face can help to improve your complexion, reducing pore size and the appearance of fine lines and wrinkles. It's an anti-aging treatment.
Will It Hurt?

The treatment is painless, with some clients describing it as rather pleasant. This is due to the massage technique and the session beginning with skin warming followed by a gradual decrease in temperature.

Are There Side Effects?

There are no side effects for the vast majority. A very small number of clients have reported pins and needles or muscle soreness after a session and subsides within 48 hours.

How Many Sessions Will I Need?

This will depend upon how many areas you would like to focus on. In general we recommend a pack of 5 sessions to get you started.

How Much Does It Cost?

The cost of the consult is $50. The cost depends upon the retailer and the area of treatment, number of sessions, and package purchased.

Is It Worth The Money?

Most of us spend up to $150 a month on a gym membership. We spend even more on workout classes and healthy food. In context, given Cryoskin's results, we feel strongly that Cryoskin is a worthwhile investment in yourself.

What About Aftercare?

Cryoskin eliminates fat cells. However, the fat can be gained back if you don't maintain a balanced lifestyle. We recommend a maintenance session once every 6 months.